23 August 2009

The success of budget airline AirAsia's launch of its Kuala Lumpur – Colombo daily route this week has the airline already planning a second and third flight, another from Kuala Lumpur and the other from Bangkok.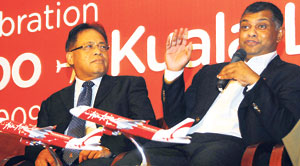 AirAsia CEO Tony Fernandes gestures during the briefing with High Commisioner of Malaysia Rosli Ismail (left) Pic by Sanka Vidanagama
The airline said approximately 30,000 seats have been sold since tickets opened for sale about two months ago. At a press conference to commemorate the launch in Colombo on Tuesday, Group CEO of AirAsia Berhad Tony Fernandes said the airline could easily do five flights per day if airport costs could be brought down and fares stay low which will also boost tourist arrivals to Sri Lanka.
Prior to the launch of the Kuala Lumpur – Colombo route, Mr. Fernandes said Colombo was promoted aggressively to Malaysians across the ASEAN region and even beyond to destinations such as Australia and the UK. "We have also included Colombo in our recent 'Big Sale' campaign and cross sell it to other destinations," he said. "We are also promoting Colombo on our website, AirAsia.com." Mr. Fernandes added that the airline is certain Colombo will leverage from the huge exposure gained from these initiatives.
Colombo which is AirAsia's third destination in South Asia will complement the airline's aggressive growth in that market besides feeding more traffic to both countries. The airline expects mutual economic benefits between Sri Lankan and Malaysia as low fares and innovative services will stimulate more travel both inbound and outbound from the two destinations.
Mr. Fernandes noted that passengers on the inaugural flight were from a range of different countries such as Serbia, Turkey, Japan, the UK, US and Australia who were coming to Sri Lanka for the first time. Several Sri Lankan's living abroad were also aboard including one passenger who had not been back for the past 27 years.